Tron Legacy Midnight Screenings
Seen and Heard at the Tron Legacy Midnight Screening
If you've never been to a midnight screening, you need to make an effort and go to one at least once in your life. Not only is the crowd totally pumped for the film they're about to see (staying up till midnight on a work night takes dedication in my opinion),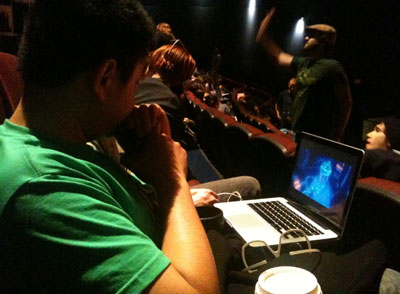 but it's likely that some of them will show up in costume. Yes, it's like Comic-Con lite at most midnight screenings, and the one on Thursday night was no exception. Tron geeks and the Tron-curious came out in force in SF, not only for the 12:00 a.m. IMAX 3D show, but for the 3:15 a.m. screening (can you believe it!?). Here's a few hilarious things I saw while waiting for the magic to begin:
Kids watching the original Tron on their MacBooks
DIY light suits made from glow sticks (which were welcomed with thunderous applause)
A group of retro Tron programs
A few Cr-48 laptops
A heated iPhone vs. Android debate
A dude, who had one too many Red Bulls, describing to the crowd how his work presentation earlier that day was "like a Steve Jobs presentation"
Now that you've probably had a chance to see Tron Legacy for yourself, be sure to share your own funny screening experiences in the comments below!