Turn Yourself Into a Mannequin With Old Navy
Turn Yourself Into a "SuperModelquin"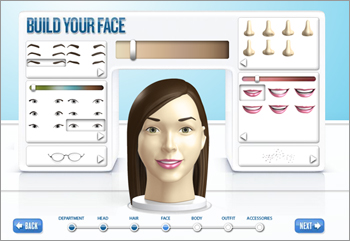 Old Navy's latest online feature is a little bit cool and a little bit creepy. As part of their SuperModelquin Super Search, you can see what you'd look like . . . as an Old Navy mannequin. Start by selecting all of your features, from face shape to hair length and color, size and body type to the size of your nose.
After you're done entering your features, you can dress your mannequin, choose a background, and send it to friends. Then, browse the gallery of saved images to rate your favorites. The winner of this SuperModelquin challenge will advance to the final round of the contest, which carries a grand prize of $100,000 and immortalization as an Old Navy mannequin. At the very least, it's kind of fun to spend 10 minutes "mannequinning" yourself. Now if we could just use our mannequins to "try on" store clothes in the online store!