Turntable.fm Social Music Sharing
Website of the Day: Turntable.fm
Add one more website to your daily tech addiction — Turntable.fm, a digital music site with a seriously social premise. While adding a social element to services has become ubiquitous, the social side of Turntable.fm is simple, and the reason for its popularity — share good music with friends and strangers in real time.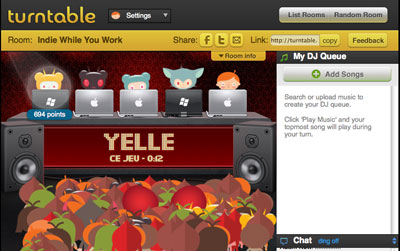 Sign up for Turntable.fm via Facebook friends already in on the service. Choose which music room to have your avatar enter based on the room's name; think of it as a virtual nightclub without strangers spilling drinks on your shirt. If nothing sounds appealing, create a room of your own and invite friends. Each room has from one to five DJs spinning, while the rest of the room's listeners "stand" in the crowd voting whether songs are awesome/lame, talking in a sidebar chat room, or queuing up songs from Turntable.fm's large music collection or their computer's music library. If you deem a song awesome, the DJ will earn points, which can be used to change the avatar, and most importantly, up the user's music credibility. About 140,000 users have signed up in the first month since Turntable.fm launched.
Everything about the service, so far, is free. Like Pandora, the site is able to legally function under the Digital Millennium Copyright Act, with a limit on the number of songs that can be played by one artist in the same hour. For the time being, international users can't access Turntable.fm, but for those located in America, hop in a room and discover new tunes.