Such Tweet Sorrow Gives Romeo and Juliet the Twitter Treatment
Why Twitter Might Be the New CliffsNotes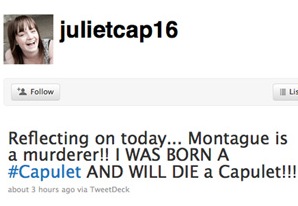 There have been all sorts of adaptations of William Shakespeare's work, but nothing comes close to Such Tweet Sorrow: the classic love story of Romeo and Juliet played out over Twitter.
This certainly brings down costs for the Royal Shakespeare Company. There aren't any sets, costumes, or lighting for the theater group to deal with — just six actors, their mobile devices, and a loose timeline and diary for the actors to follow. Beyond that, everything is improvised and played out in real time over the next five weeks. To find out more about the process, just read more.
Just yesterday @romeo_mo tweeted:
Beers in Fridge — Check, Pizza in the oven — Check, Modernwarfare in Xbox check, DVD unwrapped and ready to play — check. All systesm aGOGO!
I'm sure this isn't what The Bard had in mind when he penned his tale of the "two star-crossed lovers," but is it a stretch to wonder if Such Tweet Sorrow might be an effective learning tool for a younger generation? My guess is probably not. But maybe by bringing actors closer to their audiences it might peak interest in the story. Heck, if The Great Gatsby shows up on Twitter, I'll be the first to ask Jay and Daisy some questions of my own. What classic tale would you like to see on the micro-blogging site?