TweetDeck Android App
New! TweetDeck For Android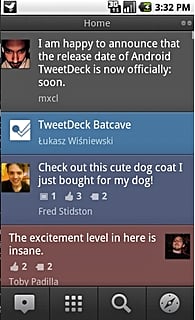 TweetDeck for iPhone launched over a year ago, and now TweetDeck has finally come to Android. The app, which was released today, puts the most popular Twitter client on your Android phone and comes with some sweet updates not yet available on the iPhone, iPad, or desktop applications.
According to the official TweetDeck blog post, the new app is "more than just TweetDeck on Android." The app features TweetDeck's signature multicolumn display, but the columns are created based on type of activity, not the service the post came from (TweetDeck supports Facebook, Foursquare, and Google Buzz).
For more on the new app, keep reading.
To avoid update confusion, posts are color-coded by the service they came from. And when you compose a message, you can choose which social network to send it from — plus it allows you to check in on Foursquare directly from the app. To indulge your narcissistic side, there is a special "Me" section that pulls in updates from all social networks that mention your name.
So far, reviews are positive, though all point out that this app is still considered a beta version; users should expect even more functionality in the official release.