One of my favorite parts of social networking technology is the way it can reflect to other events — especially events involving millions of people. Last year's MTV VMAs saw a Twitter explosion early on as Taylor Swift's acceptance speech was famously interrupted by Kanye West.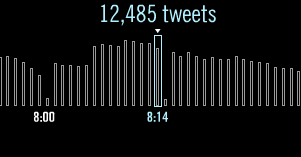 This year's MTV VMAs were no exception, but a new Twitter Tracker on the MTV site kept viewers informed of current Twitter trends and major traffic spikes.
A few highlights from last night's event, as documented by Twitter:


300,000 VMA tweets were posted before show even started.
One of the most popular hashtags of the evening? The Twitter-promoted #IfBieberMetGaga tag.
Check out the rest of the list after the break.


During Rihanna's surprise appearance with Eminem, 4700 tweets were posted each minute. During Taylor Swift's performance, 3800 tweets per minute were posted.
One hour and 17 minutes into the ceremony, Twitter users posted just over 1million VMA-related tweets.
The Twitter Tracker also makes it easy to search for top trends during each moment of the show; select the minute you'd like to view from the graph to view the most popular tags in each minute.
Did you follow Twitter during the VMAs?