Twitter Chrome Extension
Distraction-Free Tweeting With Twipster
Distraction-free tweeting? It can be done! Alas, a solution: Twipster is a browser extension for Chrome and Safari that brings the micromessaging site back to the bare necessities. Twipster completely transforms Twitter.com by replacing distracting backgrounds with a simple white backdrop and increasing text size to make tweets more readable.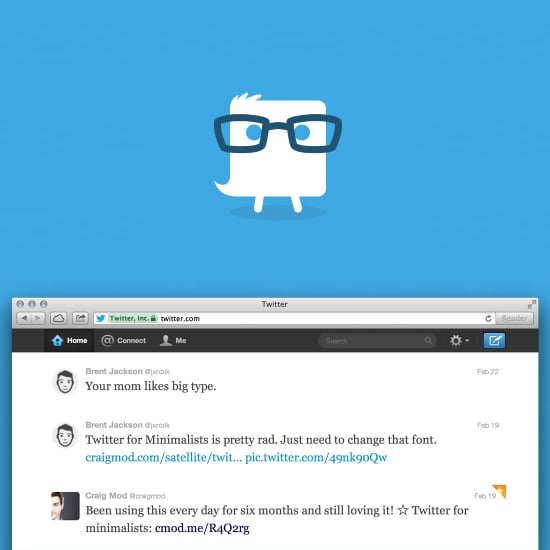 With Twipster, Twitter becomes more responsive, too — you'll be able to read those pithy messages no matter what size the window is. The way you interact with tweets is unchanged. Twitter cards still expand to show a preview of the link or image attached, and you can still reply, retweet, favorite, email, and embed to your heart's content.
What's missing are the trending topics, who to follow, and photo and video nodes on the left. Tweets, following, followers, favorites, and lists have been moved to the top of the page.
Add the browser extension to Chrome or Safari, and Twipster will wipe away all of those unnecessary distractions automatically. Ahhh . . . clean and simple, just how we like it. Are you a Redditor, too? Check out these minimalist mobile apps for "the front page of the Internet."