Twitter Now Receives 600 Tweets Per Second
600 Tweets a Second?!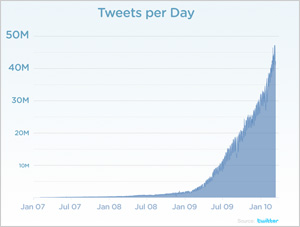 Check out the impressive graph recently posted on the Twitter blog. It shows the number of tweets per day starting with the service's launch in 2007 and ending in the present. Not only is there an enormous spike in tweets per day since just one year ago (when tweets per day totaled around 2.5 million), but the site is also close to reaching 50 million tweets per day — and this number does not include tweets classified as spam.
Of course, this just the average. Heavy news stories like Michael Jackson's death, awards shows like the Grammys, and events like the Super Bowl can equal 10s of thousands of tweets per minute (just check out this graph detailing this year's Super Bowl in tweets). Fifty million tweets per day equals roughly 600 per second. Take into account that every single posted tweet is saved and delivered to millions of followers and, well, let's just say I'm sure the engineers at Twitter HQ have no shortage of things to keep them busy!