Twitter Presidential Poll
Track the Social Media Election on Twitter's Political Engagement Map
Candidates are fiercely competing for the youth vote, and today's modern-day political battleground is social media. Twitter has played a huge role in this campaign front, launching candidate-sponsored trending topics, a tweet-based popularity Twitter Political Index, and its latest online election tool, the Political Engagement Map, which measures the number of times @BarackObama and @MittRomney's tweets are favorited or retweeted.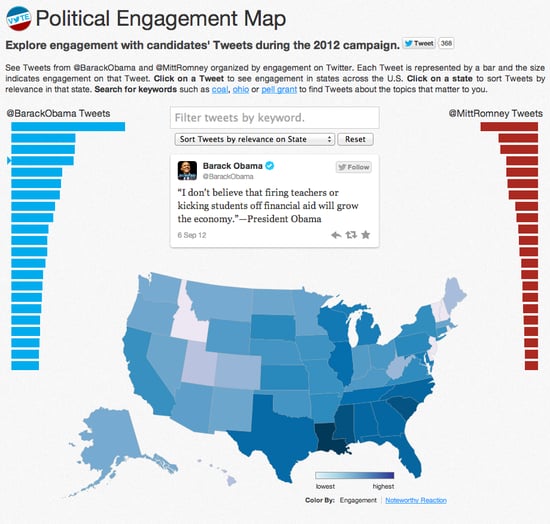 Engagement is organized by state and the more saturated the color, the more engagement with a candidate's tweet in that state. Typing in a hot-button keyword like "middle class" produces interesting results, with President Obama's top tweet showing very high engagement from Wyoming and Mitt Romney's top tweet engaging Wyoming, Utah, Montana, and Idaho.
If favorited tweets and retweets are considered endorsements, then the interactive map provides an insightful look into the nation's varied political priorities by revealing which issues induce the most reaction in certain states — at least among tweeters.
Do you think Twitter's Political Engagement Map could be an indicator of which way states will swing come Election Day on Nov. 6?