Twitter Removes QuickBar From iPhone App
Twitter Removes the QuickBar From iPhone App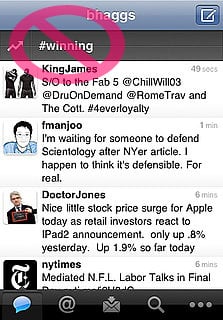 About a month ago, Twitter gave its iPhone app a major makeover, including the addition of a QuickBar that prominently displayed trending topics. Almost immediately, the Internet was up in arms over the bar (then dubbed it the #D*ckBar), which was seen as intrusive and to many, useless.
Almost immediately, Twitter issued an update to the app, acknowledging that it was at times intrusive and repositioning the trending topics bar (which sometimes includes sponsored ads) at the top of the screen. Still, for a lot of users, that change wasn't enough, so Twitter has now removed the bar completely. According to a Twitter blog post, "The QuickBar was originally conceived to help users discover what's happening in the broader world beyond people they already follow. The bar was also seen as a potential means of in-app notifications for new @mentions, DMs, and other important activity."
So, for now the bar has been killed. But, according to Twitter, users can expect "the best possible experience for in-app notification and discovery."