Twitter Reputation Score and Analytics
Twitter Ranks Users by Reputation Score; Analytics Coming Soon
Ever wonder how Twitter decides to recommend who you should follow? According to founder Ev Williams, it uses a reputation score that the "science and math people" at Twitter have engineered to analyze who you follow, who follows you, and identify relevance and overlap.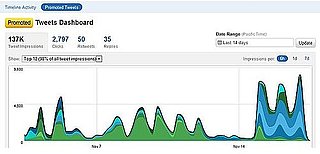 Your reputation score might eventually be turned into a standard feature, but according to Williams, "it has to evolve more."
He also announced anticipated Twitter Analytics service, which will allow users to see account data like popular tweets, which tweets caused people to unfollow, and which users reply and retweet messages. The analytics page will be made up of bar graphs and color coded charts to easily access data, and allow you to filter "best" and "good" performing tweets. Earlier this year, one Twitter exec said Analytics would be ready before the end of 2010, though no confirmed date was released. Twitter Analytics is expected to be free.