Typing on the Droid vs. Typing on the iPhone
He's a Droid; I'm an iPhone: My Droid Keyboard Fail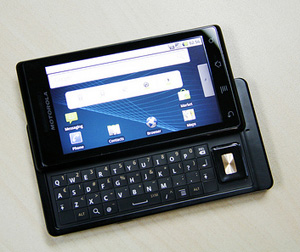 By now you know . . . my guy loves his Droid, I love my iPhone. And I can't resist any opportunity to pit the two gadgets head to head, especially if it means I can defend my iPhone against his Droid superiority complex.
One of my guy's chief complaints about his Droid is that the onscreen keyboard is pretty tricky to use. Retraining your fingers to type on either an onscreen or entirely new keyboard is tricky, especially when you're used to firing off emails and text messages in a hurry. As an iPhone user, I feel like I've mastered the touch keyboard, but I had yet to really get a feel for the Droid's onscreen keyboard.
This weekend, I got my chance. We were driving on a busy road when my guy got an urgent work-related text and asked me to type his responses as he dictated them to me. A few observations: the Droid's onscreen keyboard is not like the iPhone's. Although they're similar in size, I had a tough time finding the letters I wanted, much less punctuation. Thinking it would be easier, I flipped out the keyboard . . . and promptly sent a typo-ridden text that wasn't even halfway typed. Sorry, boyfriend's co-worker. For the rest of the story,
.
Needless to say, my guy wasn't thrilled about the accidental message and ended up pulling over to the side of the road to send the message himself. After he was done grumbling about my lack of typing skills, I took the opportunity to challenge his iPhone typing skills. After squinting and methodically tap-tap-tapping a message to his phone (it said, "Anything you can type I can type better," but it wasn't without a lot of effort that it was sent error-free), he handed me my iPhone and said, "My keyboard is easier."
There's no "winner" here — only the admission that learning any new phone is a little bit tricky, no matter what. His complaint with the iPhone's keyboard was that the letters are too close together and his fingers couldn't find the right place to touch. My complaint with the Droid's flip-out keyboard was that it was far too easy to accidentally slide to another letter; the familiar BlackBerry click-click of the keys isn't nearly as pronounced when using a Droid. Plus, I hit the space bar every single time I tried to type the letter N. I'm happy to stick with my iPhone's onscreen keyboard for now; I'm used to it and find it easy to use. My guy prefers the option of a flip-out keyboard and rarely uses the Droid's onscreen.
Source: Flickr User bfishadow