Get ready for the last Grand Slam event of the year, the star-studded 2013 US Open, which is streaming all the action from Flushing Meadows, NY, on the web and mobile . . . for free.
Serena Williams and Victoria Azarenka, ranked one and two in the world respectively, are meeting for the second year in a row at the US Open women's finals on Sunday September 8, from 4:30 to 7 pm EDT on CBS. Four men — Novak Djokavic, Stanislas Wawrinka, Richard Gasquet, and Rafael Nadal — will duke it out in the men's semifinal, which starts at noon EDT Saturday 7 on CBS. The men's champion will be determined Monday evening at 5pm EDT. If you don't have access to a TV, there are plenty of ways to stream the tournament on your computer or mobile device.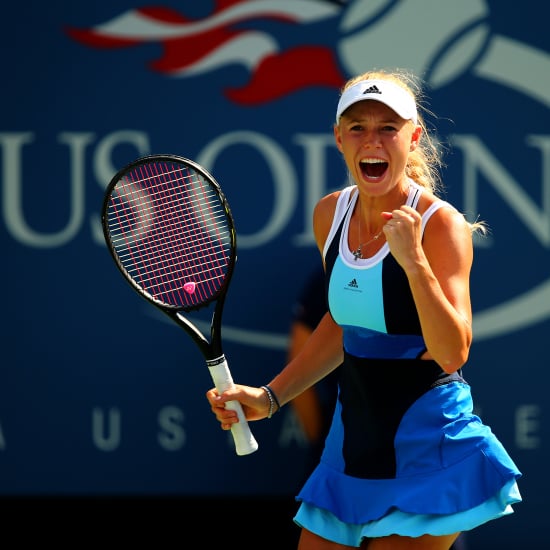 Don't care too much about tennis? Maybe this fun fact will pique your interest. Tennis may be the most popular women's sport worldwide: of the world's top ten highest-paid female athletes according to Forbes, seven are tennis players. Maria Sharapova, Serena Williams, Li Na, and Victoria Azarenka are numbers one through four, respectively.
So whether you're a tennis fanatic or just mesmerized by a fast volley, don't miss a single moment from the Billie Jean King National Tennis Center. If you can't sit among the stars in the grandstand, then check out all the ways to livestream matches, and stay up to date with all the scores and stats.
Video Livestream
USOpen.org is streaming over 200 matches in real time to all residents of the US and its territories via US Open Live. Watch key matches from six different courts, including the Arthur Ashe Stadium, Louis Armstrong Stadium, and Grandstand.
The US Open Live window has great interactive features like picture-in-picture, which plays two matches at once, a side-by-side analysis of each player's match stats, and a "Key to the Match" graphic that shows exactly what each player needs to defeat the other. Switch easily between each of the six streaming matches with the courts viewer.
If video isn't available to you, tune into the radio broadcast for play-by-play audio by clicking on the link in the top right corner.
After the games are done for the day, head to the US Open YouTube Channel to watch in-depth player profiles and relive all the greatest moments in US Open history.
Mobile Apps
Download the US Open app for iOS and Android for real-time score updates, draws, photos, an interactive guide to visiting the Open, and live "ball-by-ball" radio coverage. Live video streaming is available for Labor Day and finals weekends (Sept. 8-9). You can also elect to get push notifications for breaking news and player updates.
The Tennis Twitterati
Follow these reporters for off-the-cuff commentary from Flushing Meadows: