Unlimited Wireless Data Plans
T-Mobile Unveils News Data Plans
In the latest chapter of the wireless data price wars, T-Mobile announced today value plans intended to make smartphone and tablet data plans affordable. While Verizon recently announced tiered data plans, T-Mobile now offers its solution for affordable mobile data use.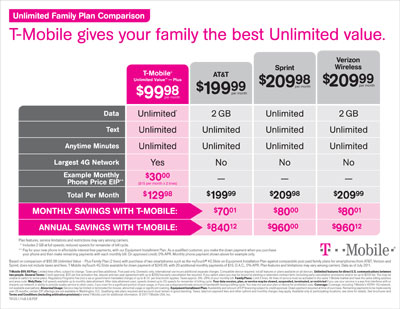 Set to take effect July 24, the data value plans are available for new and existing customers for single and family lines when signing a two-year service plan. Customers can choose the talk and text plans they prefer and add unlimited data with 2GB, 5GB or 10GB of high-speed data, whichever fits their needs. T-Mobile will not inflict overage charges if streaming too many YouTube videos one month, but the connection speed will dramatically decrease for the remainder of the month to balance the high-data use. Customers can estimate their monthly data usage and which data speed to purchase with T-Mobile's data plan calculator.
The company offers the example that a value family plan with unlimited talk, text and data with 2GB of high-speed data is $49.99 per line for two lines, totaling just under $100 minus taxes. In the accompanying graph, T-Mobile compares their pricing structure to competitors claiming customers can save nearly $1,000 annually.