Unsuck It Decodes Annoying Workplace Vocabulary
Website of the Day: Unsuck It
In larger offices, workplace bureaucracy is just a fact of life. Love it or hate it, there are certain aspects to working in a large organization — including certain buzzwords that always seem to creep their way into conversation — that are impossible to avoid. Enter Unsuck It,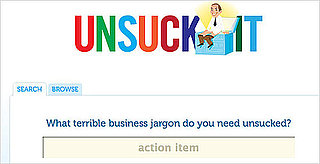 a site that decodes everyone's most-hated workplace words in cheeky fashion. From "Action Item" to "Webinar," search for or browse through terms that irk you for a straightforward meaning.
Then, in case you're feeling really passive-aggressive, you can email an offending coworker directly from the site with the "e-mail the douchebag who used it" link under the definition of any term. The downside? There's no way to send an anonymous note, so the recipient of your email will know you're no team player. (Sorry. Couldn't help it.)
Do you have an interesting website you want to share? Join the Website of the Day group and blog it for a chance to be featured on GeekSugar.