Use a Compact Mirror to Add Light to Photos
Photo Tip: Use a Compact Mirror to Add and Diffuse Light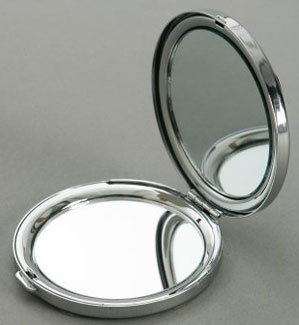 In my favorite simple SLR tips, I recommended that you either replace your onboard flash with a separate one that can be angled to diffuse light or to use a diffuser for the best results when you're shooting indoors. My latest tip is another way to diffuse light — but this tool is something you probably have in your makeup bag right now.
A compact mirror — like the one pictured here — can bounce the light from your flash just like a diffuser does. With your camera pointed at your subject, hold a compact open and angled in front of the onboard flash. When you shoot, the flash bounces and adds light to dark areas around the subject and gives a nice, natural light effect (which would have otherwise been harshly washed out with a flash alone). I tested this trick myself — see what I thought after the jump!
Although this is a handy trick, I will say that the separate flash I paid extra for diffuses light a bit better, but the mirror trick works great in a pinch!
May is National Photography Month, and in honor of the occasion I'm serving up a different photography tip, trick, hack, or app every weekday in May, so please share your successful shots! Our Cool Capture group is not only a place to post your favorite pics, but you could also win a CanvasPop Print in our Cool Capture contest. Snap on!