Use Cornify To Add Rainbows and Unicorns To Websites and Photos
Website of the Day: Cornify
Fresh off of a People's Choice Award win at SXSW, I bring you Cornify, a site that will add a whole lot of sparkle (in the form of rainbows and unicorns) to any website or photo. To Cornify your favorite site, add this link to your browser's bookmarks. Then, when you're visiting any site, click the bookmarked link to add some sparkle to your page, one brightly-colored unicorn or rainbow at a time.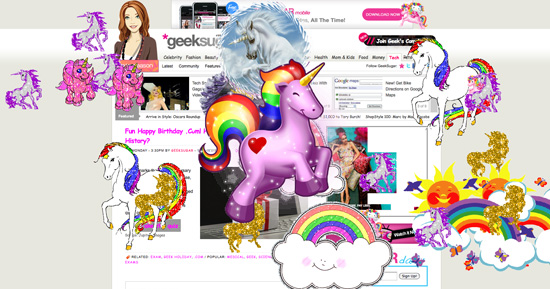 You can also add the same sparkling goodness to any photo using the Photo Cornifier. Upload any photo, and add as many rainbows and unicorns as you'd like. Then save the image to your computer to share with others. Finally, if you really can't get enough sparkle, download the Desktop Cornifier, which does the same to your computer's desktop. This site doesn't do much other than add happiness and some dazzle to your online life, but it's a fun, mood enhancing time waster.
Do you have a cool website you want to share? Find out how to post to our Website of the Day group when you
.
Just log in with your PopSugar Network account and get to blogging. It may end up being featured on GeekSugar! Need some help getting started? Here's a detailed guide to posting questions or posts to groups if you are new to the PopSugar Community.