Use Flippity To Find eBay Listings Near You
Website of the Day: Flippity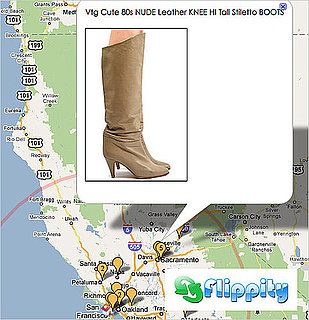 When you think of it, eBay is kind of like an online vintage store. Sure, you can find just about anything you're looking to buy through the site's online auctions (including high-end designer duds), but often, your goods are being sent from halfway around the world.
Now, if for any reason you'd rather buy from a local seller (other than being much more earth-friendly), there's a new site that will hook you up with what you're looking for from a seller near you. Flippity aids buyers by filtering only local eBay search results based on your zip code or city. You can search with keywords in categories, subcategories, and even filter by price. View the results by image or in a list layout, and filter further by showing "Buy It Now" or new items only.
I know what you're thinking: "There's a website like this already, and it's called Craigslist." While the two share some functionality, Flippity is incredibly fast and easy to use with simple, easy-to-navigate design. Give it a try!
Have a cool website you want to share? Find out how after the break.
To share your favorite websites, create a PopSugar Account or log in to your account. Then join the Website of the Day group where you can post your favorite website! And you never know, it could be featured on GeekSugar! Here's a detailed guide to posting questions or posts to groups if you are new to the PopSugar Community.