Use Google Goggles to Search With a Photo
Use Photos to Search With Google Goggles For Android Phones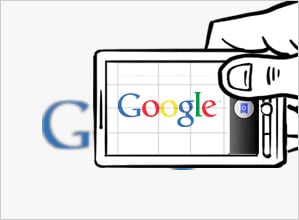 Rarely does a new app blow me away the way that Google Goggles has. Billed as a new way to search for Android phones, the application allows you to search using a photo instead of words. Just take a photo with your phone and upload it to the app. After analyzing the photo with a rather dramatic-looking scanner, Google returns appropriate search results. You can scan just about anything for results — a piece of art, a food label, a logo, the outside of your favorite restaurant.
The app also tells you what's around you. You can stand on the sidewalk with your phone pointed at a restaurant or business and Google Goggles uses location-based searching to show what other businesses or landmarks are nearby. Spin in a circle and they'll change as you point your phone in any direction. Or, take a photo of a business card you'd like to add to your contacts and the app will scan it and add it in for you. I'm only getting started with this app, but so far it's quite impressive. To download, go to the Android Market on your phone and search for "Google Goggles," and check out Google Goggles' site for more details and a how-to video.
Have you found a cool download-worthy treasure you'd like to share with the rest of us? Create a PopSugar account or log in to your account. Then join the Download of the Day group where you can submit your favorite downloads and widgets. And you never know, it could be featured on GeekSugar! Here's a detailed guide to posting questions or posts to groups if you are new to the PopSugar Community.