Use Your iPhone's WiFi While on a Plane
Geek Tip: Use iPhone's WiFi on Your Next Flight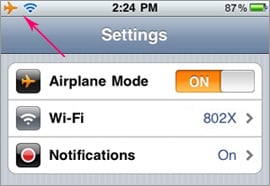 I figured out this iPhone tip after my laptop battery died while on a WiFi-equipped cross-country flight. Unlike Virgin America (my favorite high-tech airline!), there weren't individual seat outlets, so once the battery was gone, it was gone. Just as I was starting to feel anxiety about being disconnected for the remainder of the flight, I remembered my iPhone's WiFi capabilities and wondered if I'd be able to switch the WiFi on while keeping the cellular signal in the FAA-mandated "off" position.
Turns out, you can! To enable WiFi without using a cell signal, switch to (or keep your phone in) airplane mode and just turn on the WiFi. You won't be able to send text messages or make phone calls, but every other function and application that works with WiFi will work on your phone (including Words With Friends! Goodbye, in-flight boredom). While this is obviously useful in flight, it's also useful if you're in an area with poor phone reception and don't want to drain the battery, a foreign country where you don't want to pay hefty out-of-network charges while visiting, or if you don't want to be distracted by phone calls or text messages but want to send email or use other functions on the phone.
Do you have a helpful iPhone tip you'd love to share? Create a PopSugar account or log in to your account. Then join the iPhone Tips group where you can share your tip and tell us why they make your life easier. And your handy tip or trick could be featured on GeekSugar! Here's a detailed guide to posting questions or posts to groups if you are new to the PopSugar Community.