Uses For Google+ Hangout
5 Ways to Use Google+ Hangouts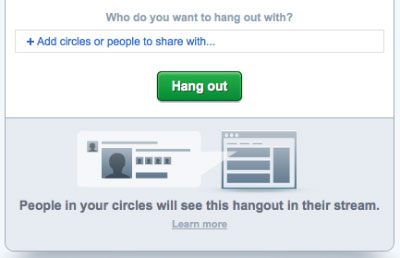 A home cook recently discovered that his passion for creating delicious meals could easily be taught to others through his new Google+ account, and now he's teaching cooking classes three times a week on the social network.
The video conferencing feature on Google+, called Hangout, is a simple way of interacting with multiple friends online in real time. Friends can see that you're in Hangout on the news stream and join in on the fun. Like the cooking class example, hangouts can be used for more than just a simple video chat, and we've nailed down five uses that will have you hanging out all day.
Study groups — Explain to peers how you got the right answer to question seven.
Book clubs — Great for long-distance friends to discuss the Hunger Games series.
Concerts — Can't make it to a friend's appearance at open mic night? She can perform the latest song in a Hangout for others who missed the show.
Learn a hobby — YouTube has plenty of tutorials to learn a new hobby, but finding a friend that can patiently explain and then watch you attempt to knit will help you become a pro.
Family reunions — Get all the aunts, uncles, and cousins to join a hangout before the hectic holiday season.
What fun ways have you used Hangouts?