VHS Tape Gadget Skins
VHS Heroes Skins: Love 'Em or Leave 'Em?
VHS tapes may be a thing of the past, but it's the format where you'll find all my favorite movies still tucked away in storage. Flicks like Willow, Legend, and The B.R.A.T. Patrol (who's seen this one!?) helped me get off to a good geeky and sci-fi start. If it weren't for laser disk, DVD, and Blu-Ray technology, I'd probably still have a VCR and keep them close by.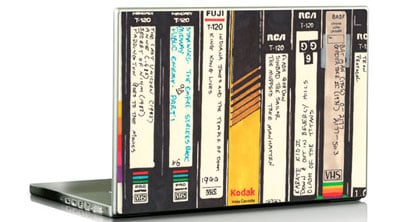 Although I can't watch the VHS tapes that were so near and dear, I can pay them respect by slapping these VHS Hero Skins ($15-$20) onto my new-fangled gadgets. Fit for your laptop (Mac and PC), iPad, iPods, and iPhones, these skins are the perfect way to show off your vintage geek flare. I'm obviously bias, but what do you think?