Verizon 4G LTE Phone Rumors
Will These Be Part of the Suite of LTE Phones Verizon Unveils at CES?
It's all pre-CES excitement around the tech world, and we're no exception. From tablet rumors to Internet TV advancements, there are way too many goodies to keep an eye out for while in Las Vegas.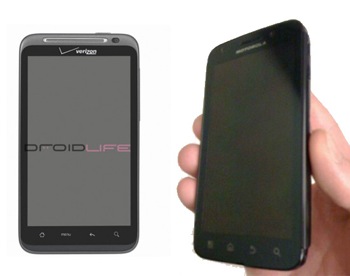 Not to be outdone, new 4G LTE Verizon phones have been the subject of various leaks for the past few weeks. Verizon said in a press release that there will be a "suite" of LTE phones to choose from, and rumors are swirling that this means HTC, Samsung, and Motorola options. Want to know more about supposedly leaked specs for these phones? Check out more after the break.
We've already shown you the HTC Thunderbolt (which may or may not be unveiled as the HTC Droid Incredible HD), and now there are other phones to add to the mix. According to Brighthand, there's the Motorola Olympus, which will reportedly also feature front- and rear-facing cameras for video chatting, LED flash, dual core processor, and a 4.3-inch screen, along with the Samsung SCH-I520, which will run on Android 2.2 and come stocked with a front-facing camera.
All of these new phones capable of running on superfast 4G have me excited, but since I'm not due for an upgrade any time soon I'll be watching from the sidelines as others jump at a chance to try these new phones out!