Verizon Customers Use More Data Than AT&T Customers
Verizon Smartphone Customers Use More Data Than AT&T's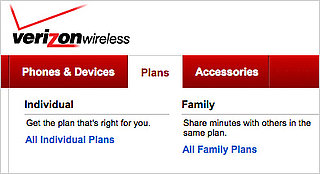 Mixed feelings about AT&T's new data plans are warranted — after all, it fundamentally changes the way that customers are billed for data usage. Now, new information means the news that Verizon is considering a similar pricing structure for its data plans shouldn't surprise anyone. Apparently, Verizon smartphone users consume the most data each month according to a company that analyzed over 20,000 phone bills between January and May of this year.
For their interesting findings, keep reading.
Their findings: Verizon users consume more data than iPhone users at a ratio of 1.25 to 1. Note, this study was finished before the introduction of the Droid X, which reportedly uses five times the data as other phones on the Verizon network.
Additionally, 11 percent of Verizon subscribers use between 500MB and 1GB of data each month, while only 5.6 percent of iPhone users do the same. With Verizon rumored to be announcing new plans as early as tomorrow, these findings are especially relevant. I'm fairly certain we'll see a similar pricing strategy for Verizon customers in the very near future.