Verizon Offers $200 to Recent Customers For iPhone Upgrades:
New Verizon Customers Can Get $200 Credit For iPhone Purchase
Although new Verizon customers won't be able to participate in previous upgrade programs, they will get a bit of a late Christmas gift from the wireless company if they're looking to buy a new iPhone when it hits next month.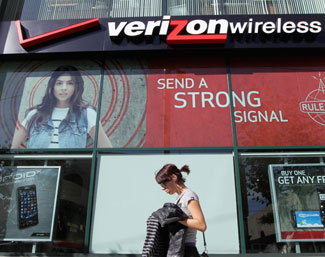 While current eligible customers can still use their $200 "New Every Two" credit toward an iPhone 4, if brand-new Verizon customers (who joined between Nov. 26 and Jan. 10) want to get an iPhone as well, Verizon will give them a $200 Visa gift card when an iPhone 4 is purchased at regular price by Feb. 28. Be prepared for sticker shock when you head into your local Verizon store on Feb. 10 to get the deal. Find out how much you'll actually pay after the break.
Paying for a Verizon iPhone at full price means you'll have to shell out $650 for a 16GB and $750 for a 32GB model, bringing your total out-of-pocket expenses down to $450 and $550, respectively. Oh, and you'll have to return your old phone, so selling your handset for more cash seems out of the question. From Verizon's iPhone FAQs:
I just purchased a new smartphone during the holiday season, but if I knew that iPhone 4 was going to be available soon I would have waited. What are my options now?

Current Verizon customers who purchased and activated new smartphones, feature phones or certified pre-owned phones between 11/26/2010, and 01/10/2011, are eligible to receive up to a $200 Visa debit card when they purchase an iPhone 4 at full retail price by 02/28/2011 and return their existing phone. Note: This offer is only available on consumer accounts with five lines or less, who are purchasing iPhone 4 through Verizon Wireless retail stores, telesales, or through verizonwireless.com.