Verizon ThunderBolt 4G Launch
Verizon's First 4G Phone, the ThunderBolt, on Sale Thursday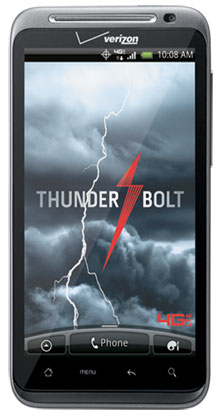 Verizon will release its first 4G phone, the ThunderBolt ($250), this Thursday. The device, which first surfaced last year, was officially unveiled at CES in January.
Despite running on Verizon's new 4G network, ThunderBolt customers can enjoy the same pricing plans as current Verizon subscribers: voice plans starting at $40/month and data starting at $30/month. The ThunderBolt has a 4.3-inch hi-res screen, 8mp camera with flash, and 720p HD video camera.
Since it runs on the 4G network, the ThunderBolt is the first Verizon phone to be able to handle voice and data use at the same time. It also can serve as a mobile hotspot for up to eight other devices, which according to Verizon will be free until May 15. After that, users can choose to pay an additional $20 for 2GB of data each month.