Vevo iPhone App
Download of the Day: Vevo For iPhone and iPod Touch
Searching YouTube for a music video can render all kinds of results — mashups, low quality copies, and fan remakes, among others. But thanks to the new Vevo App (Free) for your iPhone and iPod Touch, you'll get the goods with one search. The app gives you a front row seat to Vevo's entire video library (over 20,000 and counting), along with exclusive videos and programming, notification alerts on upcoming premieres, and custom playlists for your favorite vids.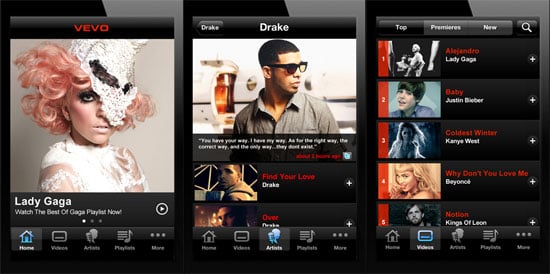 Want to know more? Then just keep reading.
What's more, you can use your GPS to see who is watching what video around you at any given time, and send a tweet, or post to Facebook about the video you're watching now, then download songs right from the iTunes store. Music lovers beware — this could end up being a huge time suck!
Have you found a cool download-worthy treasure you'd like to share with the rest of us? Join the Download of the Day group, where you can submit your favorite downloads, apps, and widgets. Your suggestion could be featured on GeekSugar!