Video Chat Over 3G With Skype
iPhone Users: Video Chat Over 3G With Skype!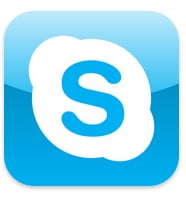 Finally! After waiting for months, Skype has announced an update to its iPhone app that includes the ability to video chat over a 3G connection. The update allows users to make Skype video calls to iPhones or using Skype on their computers, and it is compatible with iPhone 4, iPhone 3GS, and iPod Touch fourth-generation models running iOS 4.0 and above; users with third-generation iPod Touch models and the iPad are able to receive calls. Obviously, 3GS users won't be able to see who they are chatting with, but they'll be able to stream live video from the rear-facing camera.
Find out about the potential pitfalls of this newly updated app, and check out Skype's funny video announcement, after the break.
The last Skype app update came over the Summer, shortly after the debut of iOS 4.0; it allowed free calling over 3G and support for multitasking. While this current update is hotly anticipated, it doesn't come without its potential hiccups. Despite the ability to make video calls over AT&T's 3G network, Skype does encourage using a WiFi connection when available for the best image quality, for example. Plus, video calling over the 3G network is a major data suck, so if you're on one of AT&T's tiered data plans, think twice before initiating a marathon Skype session.
You can download the free app and update from the App Store now.