Video Chat With Tango For iPhone and Android
Download of the Day: Tango For iPhone and Android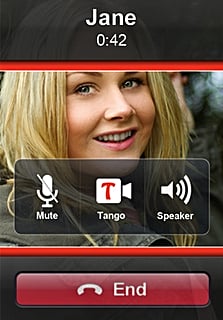 Apple's FaceTime hit the big time when it was released on the iPhone 4 last year, and has since made its way to Apple's computers and the iPad 2. But if you're not calling between Apple devices, FaceTime isn't an option. Tango for iPhone and Android is a messaging application that allows users to make video calls between devices (including the iPod Touch) over 3G, 4G, and WiFi connections, similar to Fring.
In order to chat, both users must have the app installed. Tango pulls contacts from your existing phone list, and invites users to invite others via email or text. To make a call, simply tap the contact you'd like to reach in the Tango contact list. The recipient will receive a push notification alerting them to your call.
Tango is free, and available in the App Store and Android Market and works on phones with a front-facing camera.