Video Girl Barbie With Hidden Camera
Barbie Video Girl Review: Not the Barbie I Know
The newest member of the Barbie family is totally bionic. Barbie Video Girl ($50) was first introduced to us back in February, and we finally got a chance to get to know her on a more one-on-one basis this past week.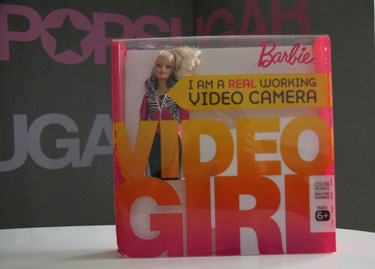 Obviously, this isn't the Barbie you and I were used to. Besides the fact that she has a hidden camera in her necklace and an LCD screen in her back, her legs and arms actually bend at the joints, and her clothes are decidedly more "modern" than the gals from my day. Nonetheless, I took Video Girl on a test drive to see how her camera stacked up, and to see how she'd fare against the 6+ age limit on the box.
Find out the results (along with a sample video) after the break.
The Good
Once you have Barbie all set up, she's pretty easy to operate (install the two AAA batteries, which requires the use of a screwdriver to open the compartments in her legs). Then, just push the camera button to record, the play button to play (without sound), and the trash button to delete the stored recordings. In the age of iPads and iPhones, a 6-year-old can definitely figure out these functions within minutes, and can be on her way to making her own reality-show-like videos with other dolls, or other people.
She comes with a pink USB cable, so you don't have to buy any additional components.
You don't have to use any proprietary video editing software if you don't want to. The videos come off of Video Girl like an SD card on a camera (on Mac or PC), and you can then choose to edit from your own software, or download the PC-only Barbie Video Girl editing software (which allows you to add graphics, sound effects, music, and transitions) from Barbie.com.
You can stream from Video Girl live to your computer using "Computer Mode." Thankfully (since we're dealing with kids here), there's no indication that you can stream from Video Girl straight to the Internet.
The Bad
The video camera is totally sub-par, and the sound quality isn't any better. I have a hard time believing that a 6-year-old would be able to capture any usable video, unless the Barbie was stationary. Most of the sound you hear during playback is the rustling of Barbie's clothes and a high-pitched ringing from the camera's microphone.
Let's just state the obvious — the girl's got a hidden camera built into her chest. This function may seem like fun for all ages at first, but when you really start to think about it, these dolls could be used for all the wrong reasons. I wouldn't put a "hidden" video camera in my kid's room, so if I were to buy this, playtime would be restricted to more public areas of the household, instead of private sanctuaries . . . like a bedroom.
The Samples