Virgin America Cyber Monday
The Cyber Monday Deal We Didn't Expect: An Airplane
After days of electronics sales online and in stores, you're in the mood for a Cyber Monday deal of a different feather — perhaps of a different bird all together. To get geeks ready for CES 2013 in January, Virgin America and Gilt teamed up to offer the #nerdbird, an Airbus A320 for a private round-trip charter to Las Vegas for the Consumer Electronics Show. Yes, that would be an entire airplane filled only with 135 people selected by you. The cost for this private party 35,000 feet in the sky? $49,000.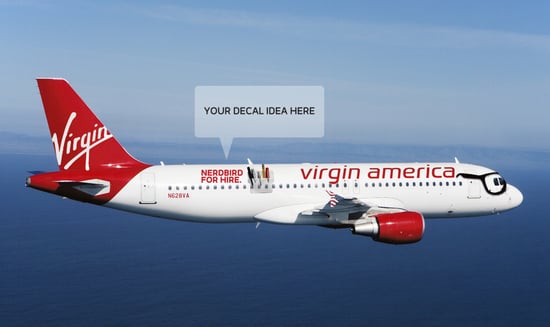 But not so fast with that credit card — if you can believe it, the deal's sold out. The private flight wasn't the only highlight though, also included is elite status on Virgin America for the purchaser and all guests, 136 passes to CES (currently priced at $100 per registration), in-flight WiFi, and the opportunity to create a decal of choice (à la the nerdy glasses seen above) for the bird to fly emblazoned with for one month.
Well, this certainly beats the 22-inch LCD TV I had my eye on. Have you found any outrageous Cyber Monday deals?