Virgin Mobile's Broadband2Go WiFi Pay-as-You-Go Access Review
Virgin Mobile's Broadband2Go: Fab, Once You Get It Activated!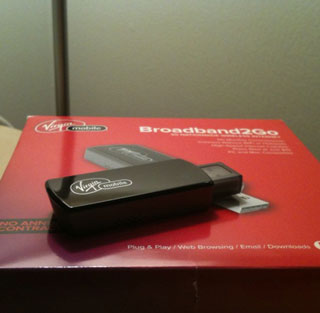 If you travel on business, you've probably used a WiFi device to get Internet access anywhere over a cell network connection. AT&T, Sprint, Verizon — all the carriers provide WiFi USB devices for a fee and usually, a contract. For those of us just looking to get access to the Internet for a trip, commuting, or for an extended period, signing a contract for a WiFi card in addition to our cellular and home Internet isn't really practical. This is why I liked the idea of Virgin Mobile's Broadband2Go — it's a pay-as-you-go service (like a pay-by-the-minute cell phone), so you don't have to sign on any dotted lines to get quick access to the web. For $100, you get a WiFi USB device, and $10 will get you up to 100MB of data (which is like surfing the Internet for five hours). I was intrigued, so I decided to give it a whirl.
Although Virgin promotes the Broadband2Go service as being super easy, claiming all I'd have to do is "plug and play," I had a number of setbacks activating my WiFi which seemed to stem from general lack of clear instruction and confusion. I'm the type to read through all the Ikea instructions prior to putting together a desk, so I was expecting to be able to understand the activation process before I began. Unfortunately that wasn't the case. Find out what happened, and my overall impressions, when you
.
There are a lot of numbers, codes, and steps to take before Broadband2Go will satisfy your next Internet fix, and for me it was far from its advertised "plug and play" simplicity. Admittedly, this may also be because I don't have that much experience with pay-as-you-go systems, but I can't say the trouble wasn't worth it in the end. After getting through the activation process, the WiFi worked like a charm — and that's really what matters, right?
Over the weekend, I took along my laptop and the USB device during a road trip to "the boonies" (as in, an area with bad cell service) to get to know its range. I did have trouble getting a signal while in the most isolated areas of my destination, but I wasn't expecting magic. I had pretty solid WiFi over the course of a four-hour drive around Northern California, and saw impressive speeds with little lag. However, you should check Virgin's coverage map before you throw down, since it seems that those of you in the Midwest and East Coast will have the best experiences. Overall, Virgin's Broadband2Go is a worthy investment for the price! Payment plans are simple and straightforward, making this a great buy for casual Internet users who need a fix while on the go, with the added benefit of not having to sign away two years of your life in the process.