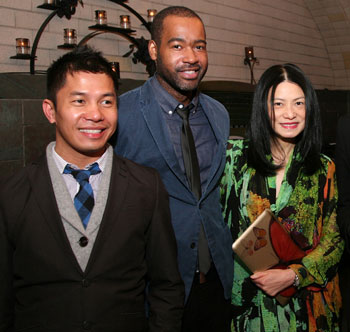 It's obvious I'm a fan of Project Runway, so it should come as no surprise that I jumped at the chance to mingle with the contestants of the show and chat about their new-found love for technology during a NYC meet-and-greet sponsored by HP. Along for the ride? The one and only Vivienne Tam, whose work with HP has produced two stunning examples of how fashionable technology can really be.
I got some face-to-face time with the designer and spoke with her about how technology inspires her work, and if she'll be continuing her relationship with HP (spoiler: she is!). Check out my interview below!


On how technology affects her designs: I can't live without technology every day. I use computers every day to generate my prints. I take pictures, I scan something that I love and blur it on the computer to make my prints.
To see what she has to say about being a technology geek, and about her future projects, just
.


How things started with HP: It was one and a half years ago, HP came to me because they wanted to do a woman's computer. You look at a computer, and it's all male dominated — like the gray color, black, steel colors. You need to take care of the woman, the fashionable woman. We need to bring fashion to technology and think of femininity too.
On future tech endeavors: People think that I'm a fashion-tech person or something, I love it. Together with HP we launched this fashion-and-technology a year and half ago. It's a new trend.
On if there'll be more things to come with HP: We're continuing, we can't say it at this moment!
Stay tuned for Project Runway's Jay and Seth Aaron's thoughts on fashion and technology a bit later this week!
Source: Flickr user hp_pc