Volvo Concept Car 2013
4 Features in Volvo's Concept Coupe That We're Coveting
Volvo remade its classic Mad Men-era car, the P1800, into a modern marvel, but the new coupe is only a concept — for now. The new P1800 will make its debut at the upcoming Frankfurt Motor Show in September, but the Swedish car manufacturer released images and info a month before the concept coupe's official unveil.
"This is how Volvos will taste from now on," said Thomas Ingenlath, head of design, and we're not hating what we see. Volvo's new design language includes a crystal gear shift and other glitzy, elegant touches that are an unexpected departure from the automaker's safe and sound reputation.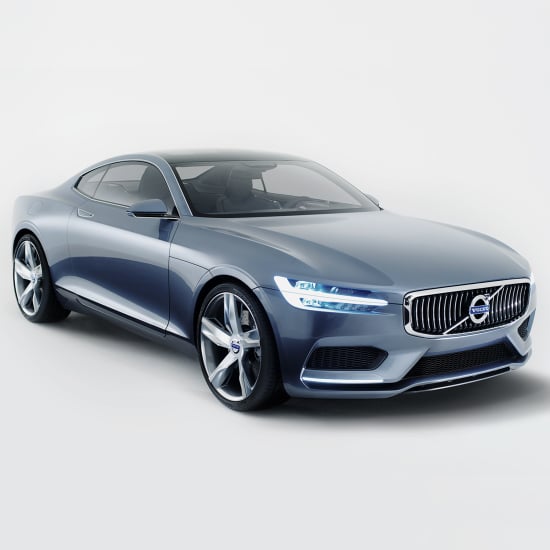 It's a return to the classic shape of the iconic P1800, which first hit the road in the early 1960s. With the announcement of the concept coupe came more exciting news from Volvo: the company is hoping to bring autonomous self-driving cars to mass market by 2020.
Which of the Volvo concept coupe's features are we coveting? See what we're looking forward to from the automaking Swedes after the break.
Crystal Gear Lever
That's right: the concept P1800's gear shift is crafted with shiny crystal. It's a nice, glitzy touch on a centrally located car feature.
Sleek Digital Display
The portrait touchscreen is very elegantly embedded into the console. We love how it's sunken into the dashboard and nestled in a sleek black shell. The display also integrates with the driver's dashboard to make the center touchscreen display less distracting.
Four-Cylinder Drive-E Engine
Volvo's new Drive-E engine was developed to reduce environmental impact as much as possible, and work with the manufacturer's upcoming hybrid system. Best in-class fuel economy is what Volvo is going for, and we can certainly toast to that. The concept coupe has a gasoline plug-in hybrid driveline, with total output of 400 horsepower and over 440 lb.-ft. of torque.
T-Shaped Headlight
The distinctive daytime headlights are sporty without being overly tacky. The new unique T-shape mirrors the rear light signature, and Volvo believes that this design element will be incorporated in many lines to come.