Voyager 1 Location
The Final Frontier: Voyager 1 Reaches Interstellar Space
Thirty-five years ago, NASA's Voyager 1 probe was launched aboard the Titan III, and it hasn't stopped exploring the unknowns of outer space since. At its current distance, Voyager 1 takes about 16 hours to return 20-watt radio signals, moving at 186,000 miles per second, back to Earth. Now the spacecraft, the first to reach interstellar space, is in an extremely remote part of the solar system, over 11 billion miles from Earth and has left the sun's influence.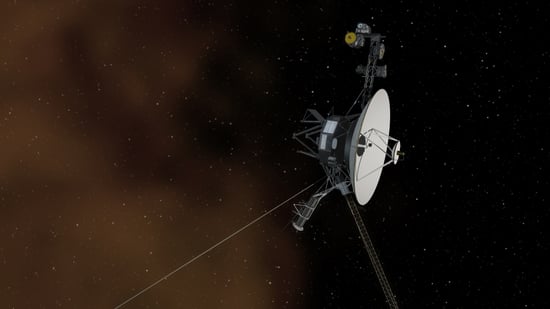 In December 2012, Voyager discovered a "magnetic highway" that pushes lower-energy particles to move into deep space, perhaps toward a galaxy far, far away. NASA confirmed Thursday that Voyager 1 crossed into the far reaches of the Milky Way, using new data that indicates the probe is in a transitional region outside of the solar system.
A wave of plasma, detected by an instrument aboard the probe, was the key to this discovery. "We literally jumped out of our seats when we saw these oscillations in our data — they showed us the spacecraft was in an entirely new region, comparable to what was expected in interstellar space, and totally different than in the solar bubble," said Don Gurnett of University of Iowa, who leads the plasma wave science team.
How long will the Voyagers continue to journey through the galaxy? Perhaps forever, but as long as the spacecraft is able to beam data back to mission control, then we'll be able to follow it on its expedition of the final frontier.
@NASA announced that @NASAVoyager after 36 yrs & 11B miles has reached interstellar space. So it begins... @StarTrek pic.twitter.com/AGonpwbNLs

— William Shatner (@WilliamShatner) September 12, 2013