WWDC App 2013
Apple's WWDC App Hints to iOS 7
WWDC, every Apple fangirl's favorite event of the year for the slew of news Apple unveils, kicks off in less than a week. Before festivities even begin, Apple's latest release, a free app to navigate the conference, may also serve as a clue on what to expect from the upcoming updates to iOS 7. Registered Apple developers can sign in to the app for maps of the venue, Moscone West in San Francisco; watch sessions and keynotes; and organize their event schedule. Basic, but absolutely handy for attendees.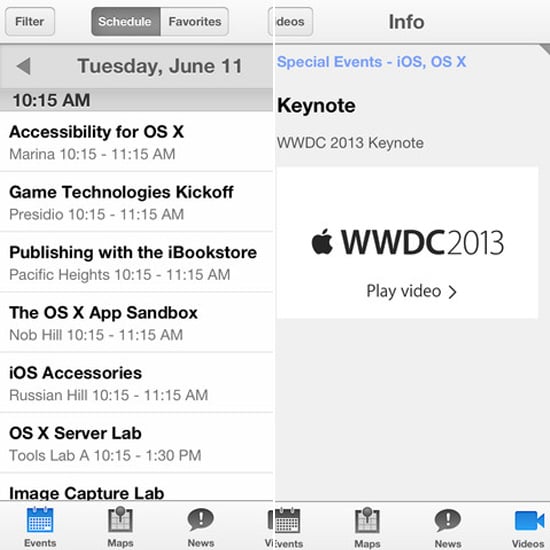 What the app shows rather than says could be the rumored "black, white, and flat all over" look coming to iOS 7. Similar to recent design we've seen in Google Now and Windows 8, the WWDC app emphasizes clean lines, a bright white interface, and less-rounded corners galore.
We'll have to wait until the June 10 keynote to see exactly what Apple has in store for its mobile operating system, but if this is a sign of what's to come, then we're fans. Would you like iOS 7 have a similar feel to the WWDC app?