Wacky and Gross iPhone Apps
Ickk! 5 Apps You Should Know About, but Never Use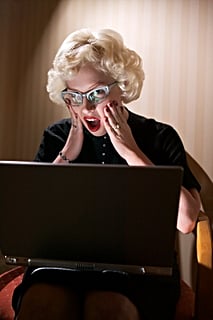 There are some pretty ghastly and wild apps out there. They were designed to shock and awe no doubt, but not the kind of icons you want a stranger to see on your phone. Here are some of the most silly, icky, and outrageous. You wanna know. You just don't want to be caught using them.


Spin the Bottle iPhone App — You're all grown up. Just go in for the kiss. Exception: If you have friends over for game night, you can use this free Spin the Bottle app to decide which player is up next. You can even adjust the speed and direction of the bottle.
Keep on reading for more wackiness.


Pimple Popper — Ewww! If you can't find a pimple on your own face to squeeze the crap out of (literally!), just download the Pimple Popper app ($1) and see if you are skilled enough to be the master zit popper! Yes, the creator of this app has actually turned pimple squeezing into a game. Good lord.
Poo Log — Well, wouldn't ya know! There's an actual app that will analyze your bowel movements! The Poo Log ($2) is a digital timer and journal that records and studies your poo — and it will actually graph it, too. So if you want to learn more about your number two sessions, this is the app for you.
Cover Up —  This one's here to help women "save face in those potentially awkward situations in the office place bathroom, public restroom or at the new boyfriend's house." For only 99 cents, you can choose from a variety of sounds (including running water, hand-dryers, and blow dryers), which are launched when touching any of the makeup compact areas — and yes, the makeup brush controls the volume!