Wacom Inkling Digital Pen
Sketching on the Go For the Digitally Inclined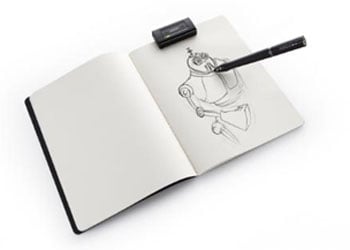 Whether drawing is a casual hobby or part of your livelihood the latest gadget from Wacom, maker of the Bamboo digital tablets, is likely to become your new favorite toy. The Inkling, a digital sketch pen, takes live rendering a step further than writing tablets, which must be connected to a computer, by capturing sketches when in use on any standard paper or sketchbook.
Graphic designers who prefer to sketch out concepts before working in a software application will love how the pen bridges free-form creativity with the practicality of high-tech innovation. The Inkling pen works with an included wireless receiver that clips to the edge of paper and records sketches via a line of sight with the tip of the pen. Use a basic USB cord to connect the receiver to a computer and import JPG, BMP, TIFF, and PNG sketches from the Inkling into Adobe Photoshop, Illustrator, and Autodesk Sketchbook Pro.
The Inkling ($200) is available in mid-September on Amazon and the Wacom's online store. Follow the break for a video of the magic pen in action.