The Walking Dead Zombies Stage Attacks in Major Cities
Help — The Walking Dead Are Attacking the Planet!
Holy crap — we're under attack by zombies! The first reports came from Taipei and Hong Kong just after daybreak, and more sightings keep coming in: London, Athens, New York, and LA. Yikes — does anyone out there have a lead on a good fallout shelter?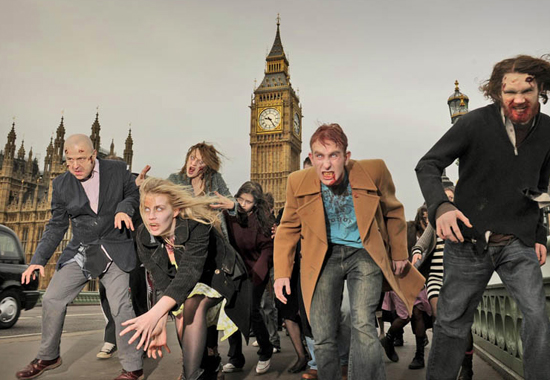 Sorry to get all War of the Worlds/Orson Welles on you, but marketing for The Walking Dead is exactly that. AMC hired an army of actors, dressed them up like zombies, and set them loose in major cities across the world. The zombies took subways, hung out in train stations, and even zombie walked their way pass the Coliseum. This was all leading up to last night's red carpet premiere in Los Angeles where the zombie march came to an end. I can't wait for the show to premiere this Sunday (that's Halloween, y'all!); I've been a fan since The Walking Dead comic book days so I'm excited to see it translated to the screen.
Photo courtesy of AMC