Walkman Cassette Tape MP3 Player
Cassette Tape MP3 Player: Totally Geeky or Geek Chic?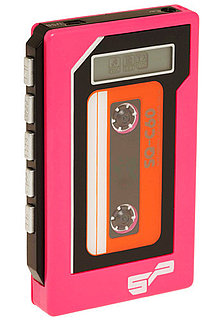 I do love retro-themed gadgets, but I'm not sure how I feel about the Old Time Rock 'n' Roll MP3 Player ($48). The MP3 player's design is a throwback to the days of the chunky Walkman, but I feel like small, compact size is one perk of new technology. (Remember how much I love the new Nano?)
The MP3 player stores 1GB of music, and comes with a USB connector and in-ear headphones. I like that it so closely resembles the beloved Walkman of my elementary school days, but don't know that I'd find a practical use for this player. Cute and quirky, sure. . . but are you in love?