Wall-E Photography
Wall-E Searches For His Dad For Father's Day Photo Fun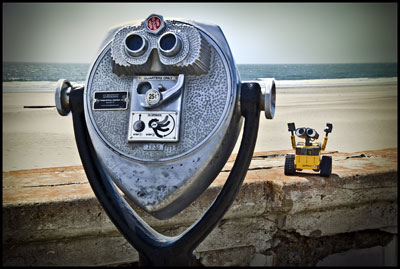 Being the big robot fan that I am, you know that Wall-E was one of my favorite Pixar movies to date. So when a friend sent me a link to these pics, depicting Wall-E's quest to find his true father, I knew it was the perfect thing to share leading up to the Father's Day holiday.
The photos tell a touching story of Wall-E mistaking inanimate objects — like an old telescoping viewfinder — for his dad. He searches high and low without any apparent success. Honestly, I can't help but ache for Wall-E to find him, even though I know he's a toy robot!
I asked the photographer, Flickr's own bats..., to tell me how he came up with this idea. Find out what he said after the break.
You can tell by the rest of bats...'s photostream that he's got some major photography skills, but no one is immune from the dreaded creative dry spell: "Wall-E helped me pull out of a creative lull. I had run out of ideas (other than tying balloons to my cat to see if it could fly) . . . So I posted on my Flickr account that I needed some inspiration." One friend came to his rescue by suggesting that he "find an object, and spend a week photographing it in various settings." After cruising through his local Toys-R-Us, he settled on a small Wall-E robot (with Up's Carl Fredricksen coming in a close second). Adorable photographs commenced.
Since we've learned so much from our National Photography Month daily tips, maybe you can find some inspiration from bats...'s story, and photograph an object of your own around your hometown (or while traveling the world)! Submit your pics to our Cool Capture group, and I'll round them all up next week!
Source: Flickr user bats...