Walmart Black Friday 2012
Walmart's Black Friday Tech Deals
Walmart's Black Friday plans are moving full speed ahead — starting just after turkey has been eaten on Thanksgiving Day itself, despite online petitions for retailers to give the holiday back to their employees. The big-box retailer even has three phases of sales for major shoppers to scoop up deals: phase one begins Thanksgiving Day at 8 p.m., with another round of deals being introduced at 10 p.m., and more home-good sales at 5 a.m. on Friday.
Online shoppers won't even need to wait for Cyber Monday, as a selection of electronics will be listed at sale prices on Thanksgiving. For early prep, take a look at the tech products sure to attract a crowd over the holiday.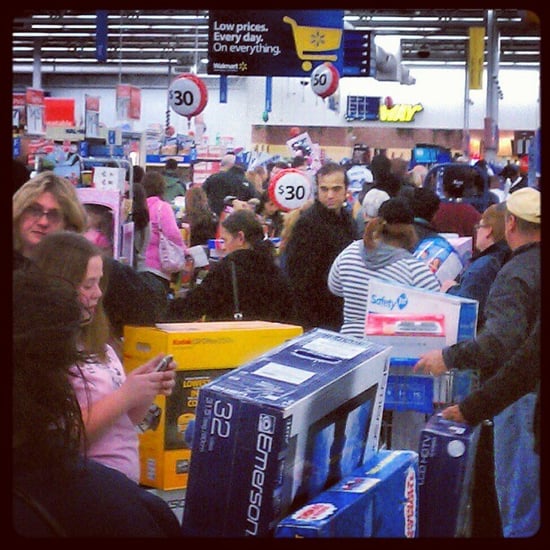 Apple Products
Buy a 16GB WiFi iPad 2 for $399 and get a $75 Walmart gift card.
On walmart.com Thanksgiving Day there will be an iPod touch and accessory kit for $175; no specifics on the storage of this product, but likely an older model 8GB at this price level. If in store, opt for a 16GB iPod touch for $195.
Gaming Consoles
Part of the Thanksgiving Day 8 p.m. phase, the store has an exclusive all-white glossy 4GB Xbox 360 and wireless controller bundled with a Skylanders Adventure Starter Pack for $149.
Starting Thanksgiving Day online, purchase an Xbox 360 value bundle including Kinect for $249 along with the choice of two value (meaning, not Halo 4) games.
For $199, pick up a 250GB PlayStation 3 and controller, plus the Uncharted Dual Pack and Infamous Collection.
The basic white Nintendo Wii console will be $89.
In mobile gaming, $100 will buy Nintendo's DSi XL in midnight blue with camera and touchscreen.
Cameras
Find the 16MP 6X zoom Nikon S3200 Digital Camera for $69.
For $100, the Samsung Smart ST195 Digital Camera has 16MP and 10X zoom and records 720p HD video.
FujiFilm's S4250 Digital Camera with 14MP, 24X zoom, and 720p HD video is $139.
Nikon has two cameras on sale at Walmart's Black Friday weekend, first of which is the J1 Digital Camera ($399) with 1080p video recording and a three-inch touchscreen back. If an SLR is more your speed, the 10.2MP D3000 Digital Camera with 18-55mm lens kit will be $449.
Read on for a list of Walmart's tablet and TV selections.
Tablets
The Nook 8GB tablet is $100 starting Thanksgiving Day at 10 p.m.
A 4GB Ematic seven-inch tablet on Android 4.0 is $49 online Thanksgiving Day.
TVs
Walmart's lowest-priced television of the weekend is the Orion 24-inch 720p HDTV for $78.
Emerson's line of budget-friendly screens are available throughout the weekend: 32-inch LCD 720p HDTV ($148), 40-inch 1080p LCD HDTV ($198), and 50-inch LCD HDTV ($298).
Looking for a whole lot of TV for the living room? The $688 Vizio 60-inch LED Smart TV with built-in WiFi might do the trick.
Samsung is representing big with a collection including a 32-inch HDTV ($248, $50 off), 43-inch Plasma HDTV ($378), 46-inch Smart LED HDTV ($598, $200 off), 50-inch LED 1080p HDTV ($698), and 51-inch Plasma HDTV ($478, $50 off).
Of course, other major retailers are getting in on the Black Friday game — check out Target's deals.