Watch the Lunar Eclipse Live on Dec. 10
Watch the Lunar Eclipse Tomorrow Morning With the Help of Tech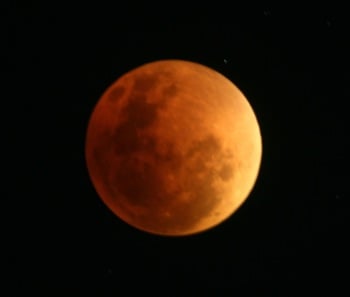 Set your alarms, party people: there's a total eclipse happening tomorrow morning. The eclipse will start at 4:45 a.m. PST Saturday morning, Dec. 10, with the full shadow of the Earth being cast on the moon by 6:05 a.m. The Western US will have the best view of the last total lunar eclipse we'll see until 2014. The moon will turn red "with a hint of turquoise," which is perfect for the holiday season. This being Winter and all, there's a good chance your city could be covered in clouds, which puts a damper on your eclipse excitement. But don't worry, these two apps and sites can help you watch, no matter if you're in the middle of a storm or out of viewing range.
SkySafari 3
An app for your iPhone, SkySafari 3 is free through this weekend in honor of the eclipse. This app lets you see the lunar eclipse as it's happening, right on your phone. But after the eclipse is over, you'll be able to explore the night sky and see accurate star maps wherever you are.
Slooh and Google Earth
Astronomy site Slooh has partnered up with Google Earth to bring you live views of space, including the moon. To access the feed, click on the "planets" icon in the Google Earth toolbar to switch to Sky mode. Then, in the layers panel, open the Current Sky Events folder and click on the Slooh Space Camera layer. You can also embed a live feed widget on your blog or website so your visitors can enjoy the view from wherever they are in the world.