Watch the Presidential Debates Live
How to Watch and Follow the Presidential Debates Online
Tonight vice-presidential candidates Joe Biden and Paul Ryan will face off in Kentucky for a live debate on hot-button national topics leading up to the November election. As the online world gets more ingrained with politics, it's never been easier to watch and follow along with the debates from your computer, mobile device, or even video game console. Below, find the must-watch streaming options, plus the Twitter accounts and hashtags to bookmark for extra perspective and facts on the topics the candidates will cover.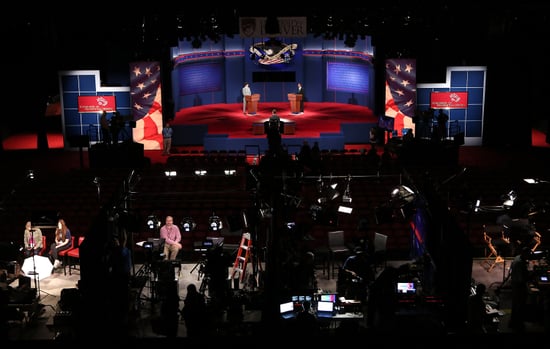 The debate kicks off at 9 p.m. EDT/6 p.m. PDT, but many of these resources will have early coverage leading up to the big event.
Online
YouTube — Preshow streaming coverage starts at 4 p.m. EDT/1 p.m. PDT on YouTube's election channel from its news partners Wall Street Journal, ABC News, and The New York Times, among others. The debate will broadcast live worldwide.
Xbox Live — Sign into Xbox Live for streams of all four presidential debates. Look for real-time polling and submit questions to fellow Xbox viewers on Twitter with #XboxPoll.
Tumblr Live GIFs — GIFs rule the Internet, and what better way to follow the political game than with three-second repeating animations? Tumblr staff will be making real-time GIFs of the candidates while their news partner The Guardian provides the stories behind the GIFs.
Keep reading for the Twitter users and hashtags to follow.
On Twitter
WSJ, ABC News, NBCPolitics, CNN, HuffingtonPost — Follow the major news sources as they live tweet from the debate floor.
#Debates — Keep a feed up of what will likely be the most-used hashtag during the debate for worldwide live reactions to the candidates.
Where will you watch the presidential debate tonight?