Water Planet Discovered
3 Facts About GJ1214b: The Water Planet
A team of astronomers at the Harvard-Smithsonian Center for Astrophysics discovered a new earth-sized planet just 40 light-years from earth that is completely covered in water. Though I immediately imagine a web-toed Kevin Costner wandering around looking for dirt to trade, Zachory Berta, who was part of the team that made the discovery, says that the planet isn't just covered by an ocean, but that there's also a "dense atmosphere of water vapor," which could make living conditions rough for humans. Dreaming of new worlds? Learn more about GJ1214b below.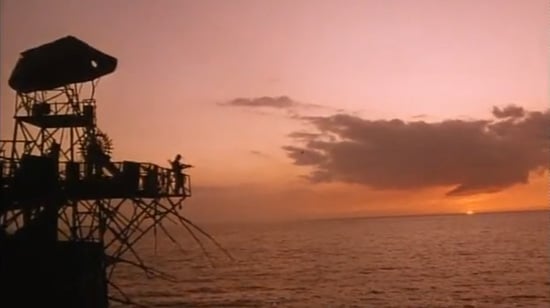 It's so hot right now — GJ1214b orbits its red-dwarf star every 38 hours at a distance of 1.3 million miles. This means that the planet has a steam temperature of 450 degrees Fahrenheit. Talk about a steam bath! According to researchers, "the high temperatures and high pressures would form exotic materials like 'hot ice' or 'superfluid water,' substances that are completely alien to our everyday experience."
Size matters — The water planet is bigger than Earth but smaller than Uranus, coming in at about 2.7 times Earth's diameter and weighing almost seven times as much.
It's well-traveled — Theorists believe that GJ1214b formed "farther out from its star," then traveled inward over the course of its history, landing in the system's "habitable zone."