Waterproof Kindle Case From M-Edge
Just in Time For Summer: A Waterproof Kindle Case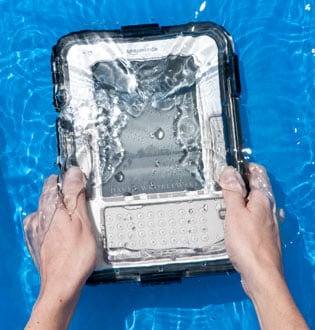 Heading out for a sunshine-filled vacation this Summer? Your ereader is the perfect companion for lazy days in the sand or by the pool, but as you know, liquid and gadgets don't mix. Don't let the fear of water ruin your outing — grab this M-Edge waterproof ereader case before you go.
Unlike other so-called "waterproof cases," the Guardian Kindle Case ($80 for six-inch display models) provides an airtight seal in up to three feet of water, so you can take your Kindle to the beach, the pool, the lake, just about anywhere without worrying about leaks. Even better, its buoyancy keeps it floating on the surface so you can read hands-free. The Guardian comes in three colors (black, red, blue) and has a flexible surface so you can still utilize your Kindle's controls.
It's a bit of an investment for $80, but considering the equipment it's protecting, I'd say it's worth it — especially for you waterbugs!