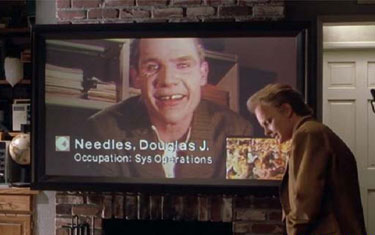 When I first saw Back to the Future 2 back in 1989, I thought it was the coolest thing since Parachute Pants. I watched it over and over and wondered if this was how the future would really turn out to be.
One of the most memorable scenes for me was when Jennifer finds herself at her future home. Not only was the "Rehydrator" something I looked forward to, but Marty Jr.'s TV glasses and Marty Sr.'s video chat with his boss Needles totally blew my mind. These days, video chatting is a common way to communicate since it's accessible on all kinds of devices — from TVs to computers to phones. But more than just a way to say hello, video conferencing can be valuable in many areas of your life. Check out five simple ways you could utilize a webcam, or something like the new Umi Telepresence system, after the break.


Interviews — Got a cross-country interview, but can't afford to fly out in person? Check with your potential employer to see if a virtual interview will suffice. It's a great way to get to know them (and them you) without spending a fortune.
Gaming — Play a game of Charades with your comrades from around the globe with the help of a webcam and a laptop. It's like they're right there in your living room!
Travel — Take your family and friends along on your next vacay by calling home on Skype or Google Video. Seeing their faces when you're half a world away will help with the homesickness, and your family will appreciate a look at your latest locale.
Virtual doctor's visits — If you can, connect with your doctor face to face instead of scheduling an over-the-phone visit for checkups and test results. This way, you both can read each other's body language, and he can see if you really are looking better, instead of just trusting your voice.
Any other ideas on how to utilize a webcam in your daily lives? Leave them in the comments and share with the community!