Website of the Day: Appreciate It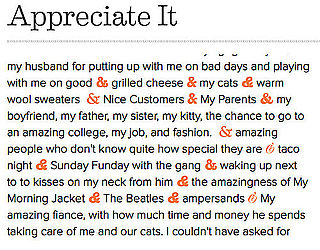 With all the stress that comes with the holiday season, it's sometimes nice to take a moment, relax, and think about things worth being thankful for. One website is encouraging such behavior, inviting users to, "share the one thing for which you are most appreciative" to be a part of the "longest, most sentimentalist holiday letter of all time." Appreciate It was started by a graphic design firm and contains hundreds if not thousands of things worth being thankful for.
To contribute, use the text box below the growing list to add your thought and name. Each thought is connected with an ampersand, creating a very long, very thorough, and very crowd-sourced list of reasons to be thankful. It's a simple premise, but a sweet distraction from negativity and stress.
Do you have an interesting website you want to share? Join the Website of the Day group, and blog it for a chance to be featured on GeekSugar.