Website of the Day: The Bus Ride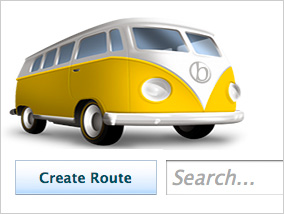 When I'm searching for general information on a topic, I start one of two places: Google, or Wikipedia. However, a newly discovered way to search for general information on a topic could end up being a bit of a time waster! The Bus Ride is a search engine of sorts that takes you on a guided path of varied sites related to your search query. For example, a search on "San Francisco" started with a stop at the YouTube page for Scott McKenzie's hit song of the same name, next, a travel guide for the city, then a news story, and so on.
But that's not all, of course — find out what else you can do on your Bus Ride after the break.
Once you complete The Bus Ride's journey of six sites related to your topic of choice, you can elect to connect with Facebook to save the journey and receive a stamp announcing your completion. Besides creating your own ride, you can browse through others' saved search results in topics like "humor," "interesting," and "creative." While this site isn't the best for finding super-specific info, if you have a general interest in a topic and want to learn more, it's a fun and interesting way to navigate the web.
Do you have an interesting website you want to share? To find out how, read more[/break].
Sharing your favorite site is easy! Create a PopSugar Account or log in to your account. Then join the Website of the Day group where you can post your favorite website! And you never know, it could be featured on GeekSugar! Here's a detailed guide to posting questions or posts to groups if you are new to the PopSugar Community.