Website of the Day: WhyDoItAlone
Website of the Day: WhyDoItAlone?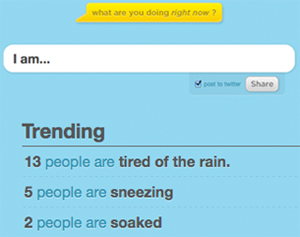 What are you doing? What's happening? And do you want to tell everyone about it? Judging by Twitter's popularity, telling the world what you're doing or thinking is certainly nothing new. Now, you can commiserate with others who are doing, feeling, thinking, or saying the same thing, whether you're sleepy, sneezing, bored, or any other emotion. WhyDoItAlone? was started by a team of developers as a quick way to test the user interface of a different site, but "we all got such a kick out of it we thought we'd just put it out there," says the developer who created the site.
The site is a simple and fun way to see what other people are doing en masse. For example, as I write this, 23 people are tired of the rain, five people are sneezing, and two are in the club. The site is meant for sheer entertainment value, and if you see something on the list that you're currently doing, help add it to the trending topics by clicking "me too!" The site is integrated with your Twitter account, so you can broadcast your identity or leave it anonymous . . . which will come in handy if you want to tell the world that you're not wearing any underwear (five people are currently doing that).